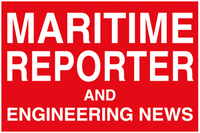 Maritime Reporter and Engineering News
Maritime Reporter & Engineering News' first edition was published in New York City in 1883 and became our flagship publication in 1939.
It is the world's largest audited circulation magazine serving the global maritime industry, delivering more insightful editorial and news to more industry decision makers than any other source.
More ship and boat owners, ship and boat builders and naval architects and marine engineers subscribe to Maritime Reporter & Engineering News Magazine than any other publication in the industry.
Audited by BPA
Latest Edition (
September 2017

)

Feature: Maritime Port & Ship Security Edition

Technical: Drones

Product: Clean Water Technologies
Content
Environmental compliance challenges are nothing new to the cruise industry. Initiatives to enhance environmental compliance, from clean technologies to improved processes and procedures, have significantly reduced the impact cruise vessels have on the environment and improved the quality of discharge. These onboard initiatives address what is in the vessel's control, but cannot simplify the increasingly complex regulatory environment in which cruise lines operate.

Cyber risk has hit a critical peak within the maritime industry, and the significant impact of the Petya ransomware attack on scores of maritime entities only amplifies it. The attack effectively shut down major ocean carriers, including shipping conglomerate Maersk, and impacted marine terminal operations across the globe. Every maritime company, no matter the size or business function, is a potential target.

Interferry CEO Mike Corrigan explains the Stronger Together vision behind the trade association's drive to extend its networking and lobbying influence. Over the past four decades, Interferry's reach and purpose has evolved with increasing effect from its U.S. origins in 1976. Back then, it was formed as the International Marine Transit Association with a focus on networking among its members. Now it is highly respected and influential as the only body representing the ferry industry worldwide.